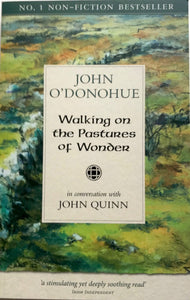 John O'Donohue - Walking on the pastures of Wonder
Regular price $19.00 Sale
Walking on the Pastures of Wonder is a poignant  and inspirational collection of radio conversations and presentations based on the work of John O'Donohue in conversation with his close friend and former RTÉ broadcaster John Quinn.
A native Irish speaker, John O'Donohue was recognised by many as being one of the most charismatic and inspirational writers of his day, writing several major works, including two poetry collections, Echoes of Memory and Conamara Blues, and the international best sellers Anam Cara, Eternal Echoes and Divine Beauty.
Having sadly passed away in January 2008,  John O'Donohue left behind a remarkable body of work on the subjects of spirituality and Celtic mysticism. These timeless conversations with John Quinn, span  a number of years and explore themes such as wonder, landscape, the medieval mystic Meister Eckhart, ageing and death.
Presented in O'Donohue's inimitable lyrical style, and filled with rich insights that will help to feed the 'unprecedented spiritual hunger' that he observed in modern society, Walking on the Pastures of Wonder is a welcome tribute to a much-loved author.