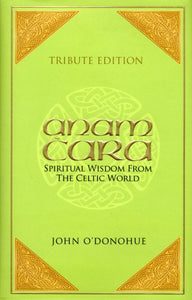 Anam Cara by John O'Donohue
Regular price $16.00 Sale
In Anam Cara (Gaelic for "soul friend"), John O'Donohue invites you into the magical and unobtrusive world of your own divinity, to a place in the soul where there is no distance between you and the eternal. The ancient wisdom, poetry, and blessings of Celtic spirituality will awaken and grace the beauty of your heart's landscape. Exploring such themes as the mystery of friendship, the spirituality of the senses, the brightness within solitude, work as the poetics of growth, aging as the art of inner harvesting, and death as eternal homecoming, this book will encircle your heart with Celtic benediction.
"This book is a phenomenon in itself...a book to read and reread forever, its style of varied narration responds to our times."
The Irish Times
"A rare synthesis of philosophy, poetry and spirituality...a powerful and life-transforming experience for those who read it."
Deepak Chopra
This book is a paperback with 281 pages.