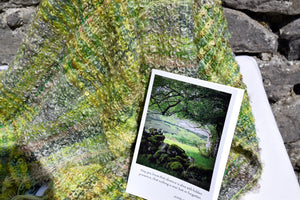 Hand Woven Burren Wrap
Regular price $199.00 Sale
We commissioned Liz Christy to loom a hand woven Wrap inspired by an image of John O'Donohue's ancestral homeland in the Burren, Co. Clare Ireland.
Scarf demensions: 223cm x 35cm (88" x 14")
Liz Christy is an established textile designer and hand-weaver, who has a passion for Irish textiles.
She has drawn inspiration from the lush drumlin countryside and paintings by her favourite artist, Claude Monet. Paintings by Paul Gauguin and American artist, Edward Hopper have influence in some of her work.
It is very important to Liz that she can truly guarantee that her textile designs are genuinely hand-woven in Ireland. Hand-weaving is an age old craft and her looms are powered by hand and foot and all her work has a woven selvedge. Every piece is knotted and washed by hand to finish and bring out the luxurious softmess of the wool.
Liz Christy is a registered member of Design & Crafts Council of Ireland.