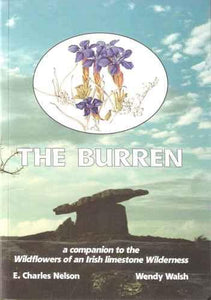 The Burren
Regular price $40.00 Sale
The Burren: contains the story of the discovery of the Burren's botanical riches, folk tales about the plants and description of wild places. Botanical information is woven into discussions of the contradictions that render the Burren a botanist's bewilderment. Why do Artic plants live side by side with orchids and ferns more at home around the Mediterranean Sea? Why do heather and bog asphodel inhabit a place that is said to have no water and no soil.
Dr. Charles Nelson writes about this enigmatic, perplexing region in a relaxed yet informative book. To accompany his text, Wendy Walsh has painted in watercolour one hundred plant portraits.
The Burren is a threatened landscape and this book is published to help reverse that trend. All profits will be devoted to the work of The Conservancy of The Burren.
Paper back. 342 pages.
ISBN 1 898796 10 7